Excerpts: Afterward by Barbara Scales
In some sense, humanity faced many "floods," many disasters during the lives of Junius and Gladys. Both were deeply effected in their early years by the ending of the economic boom years of the 20s with the great depression, its hunger, loss, and all that was encompassed in "the lean years." They both stood against the brutality of the Nazi takeover of Europe, Junius serving in the armed forces and Gladys in the war industries.
Despite the ultimate defeat of fascist and Nazi forces in Europe, millions of dead were left behind.
After their early and ardent support of the Soviet experiment, they suffered the shock of the realization of the horrors of Stalin's Soviet Union. Only a modest token of these horrors were revealed to the ardent defenders of the Communist experiment, during the 20th Party Congress in 1957.
Junius and Gladys spent the rest of their lives discovering writings and hearing first hand accounts of what life had been in the Soviet Union before, during, and after Stalin. Horrified by the Soviet invasion of Hungary and confronted with irrefutable evidence that Stalin, far from being the hero of a glorious socialist society, was rather the architect of the planned and heartless destruction of his people, Junius and Gladys, like many others around the globe, picked up the pieces of their beliefs and dreams for humanity and started to throw them over their shoulders, not knowing what would become of it all.
My parents, however, had an additional disaster which awaited them: eight nightmarish years of preparing for, living through and awaiting the results of the court room drama of Scales v. the United States, followed by the incarceration of Junius Scales. Tested to the limit but without breaking, Junius served his time in prison, until my mother, Gladys, and a band of principled individuals which included Eleanor Roosevelt, Reinhold Niebuhr, Norman Thomas, James Wechsler and many others, managed to persuade Attorney General Robert Kennedy and then President John F. Kennedy, of the injustice and inappropriateness of Junius' imprisonment.
After 15 months of imprisonment and pained correspondence between my parents, heart-wrenching visits that my mother and I made within those walls, on Christmas Eve 1962, the gates opened and then shut behind him.
In the family and among a circle of friends, we referred to Gladys, admiringly, as Fidelio, a reference to the heroine of Beethoven's only opera, the eponymous tale of a brave woman who, at great personal risk and with singleness of purpose, set out to liberate her husband, a victim of political oppression, from prison. When they were reunited, my mother was 39 years old, my father was 42, and I was 11. As a family, we had never known "normal".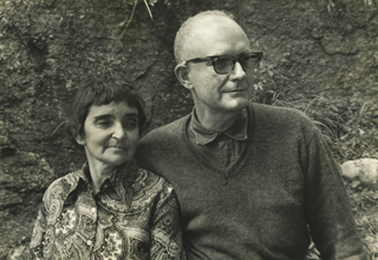 Gladys & Junius Scales, Gladys' last summer in 1980 – Photo: Barbara Scales Collection
What was left after youthful passion and certitude had led them down a path which had proven to be disastrous? Their country would still face many seismic disasters: the deeper involvement in a terrible war, the revolts in the inner cities across the nation, the assassination of the two Kennedy brothers who had heard their pleas and then of Martin Luther King, who had embodied so much of what they had still dared hope for.
Junius explored some options but felt his presence in the midst of any public campaign would bring a taint to that activity. He focused on supporting his family. Gladys came into her own in that period, devoting her energies to teaching and to restoring some semblance of family life. I flourished in those years, attending Hunter High School, the Martha Graham School of Dance and finding my own political engagement at Hunter, in protest demonstrations and in electoral campaigns.
I had moved on, in 1968, to studies at McGill University in Montreal. I had moved on, at my parents' urging, to a different country, to allow me, they thought, to understand something about the nature of the individual in a different society. This was a journey from which I would not return, much to my parent's chagrin.
The interviews which make up this book came at the end of that period of difficult family reintegration and my departure for Montreal. My mother would have 10 years to live; my father survived her by 22 years. What happened to them and to me in the years after these interviews is left for me to recount here.
Barbara Scales is the Founder and Director of Latitude 45/Arts Promotion, Artist Management and Agency, representing artists in all fields of the performing arts including classical and contemporary music, dance, theatre and children's entertainment. Latitude 45 works globally with one-third of its activities in Canada, one-third in the United States and one third in Europe, Asia-Pacific and South America.